Click and collect is one of the more popular methods for buying remotely, but how could it work for your business and if you already have a system, could it be improved?
The convenience of Click & Collect and Delivery options has proved to be very appealing for local customers, and something many businesses will continue to thrive on post-pandemic.
It's a great way for fish and chip shop owners to make more money as you'll find many customers will spend more when ordering, you control when the customer arrives to collect the food and it's paid for upfront so you will need less staff packaging up items.
How does it work?
A customer orders your products online through a website, ordering page or app, selecting the option for pickup;
After the customer pays for the order online, they should receive an order confirmation with collection details. The order details are communicated to the business who prepares the order for collection;
The customer comes to your shop, usually with proof of the order, and collects the products in person.
Keeping food fresh for your customers
Over the last 18 months we've had customers keen to explore ways they can adapt their frying methods to make preparing food easier for Click & Collect and delivery, as well as ways to make sure the food is kept as fresh as possible by the time it's being enjoyed by the customers.
It's imperative that shops are taking steps to guarantee freshness by the time customers receive their meals, customer loyalty is greatly valued in fish and chip shops, ensuring they can still get the same quality meals will help make sure you don't lose their loyalty.
So, how can Edge help you? We have acknowledged this increase in demand and have invested some time into finding a solution to help shops guarantee freshness for their customers.
Thinking about your heat sources
The key for shops to provide fresh food is successfully storing the food until it is collected or delivered. Once the food has been prepared and is packaged, you want to preserve the warmth of the food with no significant temperature increases or decreases. Shops have invested in heat lamps that sit above the packaged food; however, you are not likely to be receiving the full benefit as the heat source is quite a distance from the food and will have to get through the top of the package before reaching the product.
Heat rises, keeping the whole package warm
As we all know heat rises, so we have developed a solution where the heat source sits directly underneath the food enabling it to travel upwards and maintain the warmth of the whole package. This is achieved by building a heat source into the shelving area that the food package sits on whilst awaiting collection. This also helps keep the area organised and tidy, which will aid productivity in those busy periods!
Heated shelving
With three shelves heated you can separate out your collections and deliveries however way you want.
This Stainless steel click and collect / delivery station comes complete with 3 heated shelves and a lower non-heated shelf. The unit is easily maneuverable thanks to the castors on the feet.
It comes in three different sizes and delivery to mainland England and Wales is included in the price.
For delivery outside of these areas then please get in touch on 01527 592 000 and we can quote you for delivery.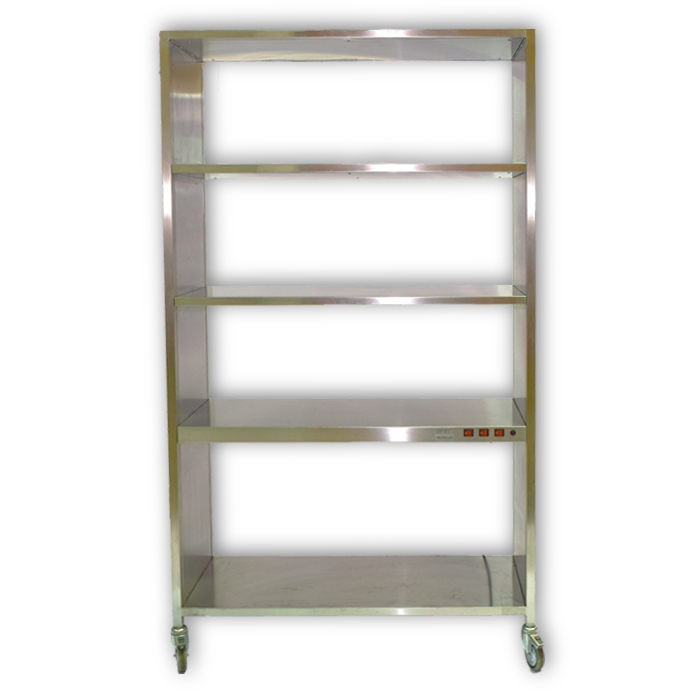 Where to buy?
The stainless steel heated shelving unit is available on the Florigo Shop starting at £2,415 + VAT.
Get in touch
Call a member of our friendly team on 01527 592 000 to discuss your range requirements and for us to send you a quote straight to your inbox.